Hello once again to all friends of EYECAN.
CHEF RETURNS
I'm very pleased to start this issue with some excellent news – the return of a much-loved member of staff – Michelle Banks. Michelle is once again the star of EYECAN's kitchen, to the huge delight of Social Club members. With members regularly responsible for delicious scents courtesy of Bake me Happy sessions, and with Michelle's delectable cookery firmly reinstated, visitors to the centre are now frequently greeted by mouth-watering aromas.
CLUBS
Social Club members have also enjoyed the opportunity to paint pebbles using a range of different techniques, and to attend Wellbeing sessions. These monthly sessions feature gentle chair exercises to warm up the body, breathing techniques for relaxation and guided meditation to rehearse positive thoughts and instil habits for happiness.
In January, Jersey Financial Services Commission contacted us with a request to purchase paintings from our artists to adorn their office walls. This was an exciting opportunity for our members, although it's hardly surprising that their work should be sought after. Each year at the Eisteddfod our members compete alongside sighted artists and receive many top awards.
CHILDREN'S SPECTACLE VOUCHER SCHEME
Last December a young man called James and his mum, Julie, were invited to EYECAN to
accept a goody bag and look around our facilities. James was our Children's Spectacle Voucher Scheme 1000th applicant. The voucher scheme was launched in January 2021 to offer all children under the age of 8 £90 towards the cost of prescription glasses. In response to the rising cost of living EYECAN has recently increased the amount to £150.
Julie commented,
"We used EYECAN's Spectacle Voucher Scheme for the first time in December 2022 to fund our son's glasses. It was so easy, we picked up a leaflet at the opticians and filled out a very short form and EYECAN covered £90 towards the cost of the glasses. We have been buying glasses for 5 years and it is an expensive, vital, necessity for James. We massively appreciate what this charity offers and having had the grand tour of their premises in St Martin, we can highly recommend their services if you or anyone in your family has a visual impairment. We were so impressed.
Thank you EYECAN for your support!"
We're delighted to have been of assistance, Julie.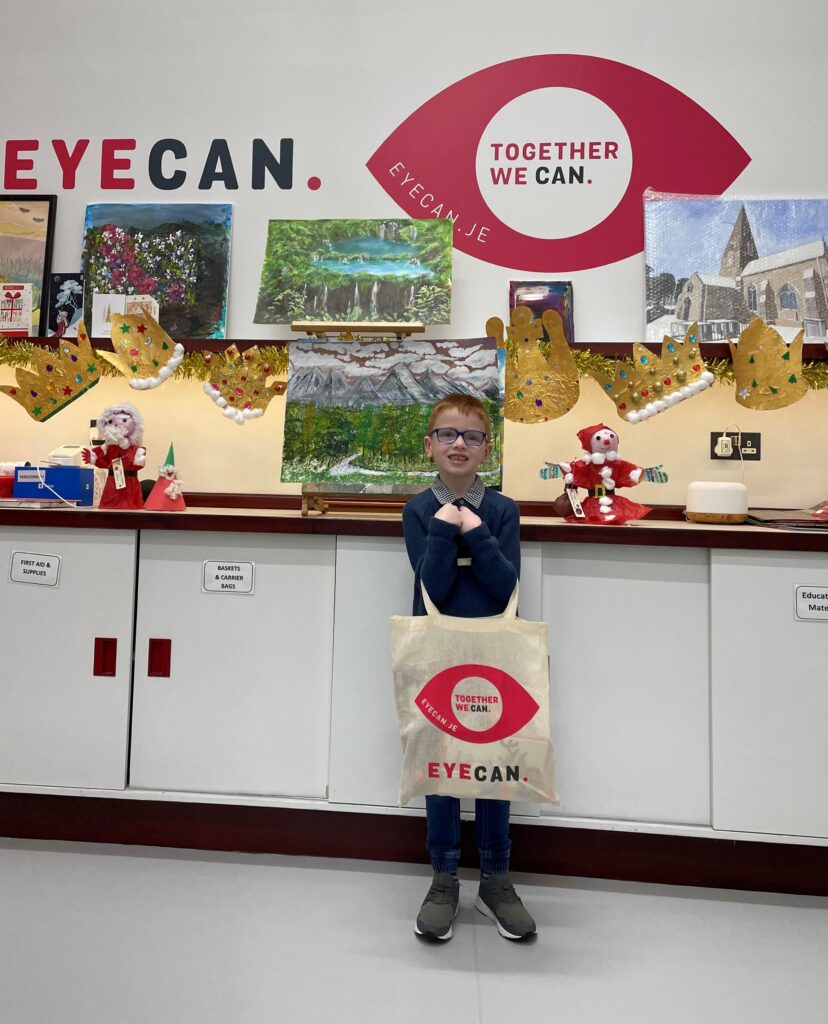 IMPORTANT VISITORS
EYECAN has welcomed some other important visitors to the Centre recently. At the beginning of February, Deputy Elaine Millar, Minister for Social Security and Deputy Malcolm Ferey, Assistant Minister for Social Security, visited Westlea , with the Health Minister, Deputy Karen Wilson, visiting shortly afterwards. We are always pleased to showcase our services to Government ministers, and look forward to welcoming our new patron, His Excellency the Lieutenant Governor Vice-Admiral Jeremy Kyd and his wife, Dr Kyd, to our annual EYECAN Solutions event in May.
EYECAN SOLUTIONS
This year EYECAN Solutions will take place on 25th and 26th May. The event provides opportunity to explore support, technology, and the latest innovations available to Islanders with sight loss. Newcomers will also have the chance to look around our premises. As usual, to manage footfall, we will ask you to book a timeslot for your visit. Look out for your invitation nearer to the date.
YOUR VOICE
Points raised by our members at the Older Persons Living Forum were the frustrating requirement to access Government (and other) services on-line; an expectation which proves prejudicial to many older Islanders and those with sight loss. The forum recommended that people should be offered a choice of communication methods and suggested a central point of contact from which to obtain Government assistance. Also mentioned was the paucity of seating throughout town, in shops, and elsewhere in the Island. It was pointed out that whilst exercise is encouraged, older people need to feel confident that they can take a rest before committing to walk any distance. These and other points, have been referred to relevant parties and their responses will be advised at the follow up meeting in March.
CARERS
A very well-attended brunch for carers at Holme Grown in December, provided opportunity for unofficial carers to speak directly to the Chief Minister. Government Ministers also attended a States briefing organised by the Carers Partnership Group in January, at which Luke Clements, Professor of Law and Social Justice, made the case for Carers legislation.
EYE CLINIC
Eye Clinic Liaison Officer (ECLO) Susi Antonio advises that two new doctors have recently joined the Eye Department as permanent staff. 
Susi continues to be invaluable to EYECAN and has recently supported a trial Portuguese Club meeting at a café in town. We want all of our members to get the most out of life and we understand how important social contact is to wellbeing. One of the best things about our social clubs is the opportunity these provide for members to forge friendships which continue beyond our premises.
With every best wish,

Becki Henderson
Interim Chief Executive Officer at EYECAN